We've found that overall Amazon provides the best deals on most makes of ereaders. Select your option to get the latest price and discount on various ereaders. The best place to buy a Nook ereader is from Barnes and Noble online or retail stores.
Amazons Kindle
Kindle DX Wi-fi (Top of the Line)
Apple iPad and B&N Nook
Apple iPad 64GB, Wi-fi + 3G
Barnes & Noble Nook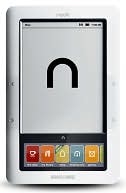 Buy at Barnes and Noble
Sony Editions
Other Notable and New eReader Options
Aluratek LIBRE eBook Reader PRO
Archos 7 – 8GB Home Tablet
eReader Accessories
You can find many accessories for your eReader. Here is a sampling of some of the most popular. Check out covers, chargers and more here:
eReader Accessories at Amazon
or explore more details at ereader-accessories pages.
Digitals On Demand Accesories
Discover More of Kindle